Have you ever had Strawberry-Pretzel Salad? It is one of those delicious dishes that makes its way to the table at Thanksgiving or Easter and while it is called a salad it has nothing salad-like about it. It is a gelatin dish (hence why it is called salad) and is made by layering salty crushed pretzels with a sweet cream cheese layer, strawberry gelatin studded with chopped strawberries, and finished with a layer of fluffy whipped cream topping. It is a delicious side and dessert that is especially beloved at the kids table. This is that delicious and nostalgic dish in ice cream form.
The Layers
What makes this ice cream cake so fun to eat is all the delicious layers that meld together. Like the dessert that inspired it, this ice cream cake is all about the blend of salty, sweet, and tangy. Here are some notes on each layer: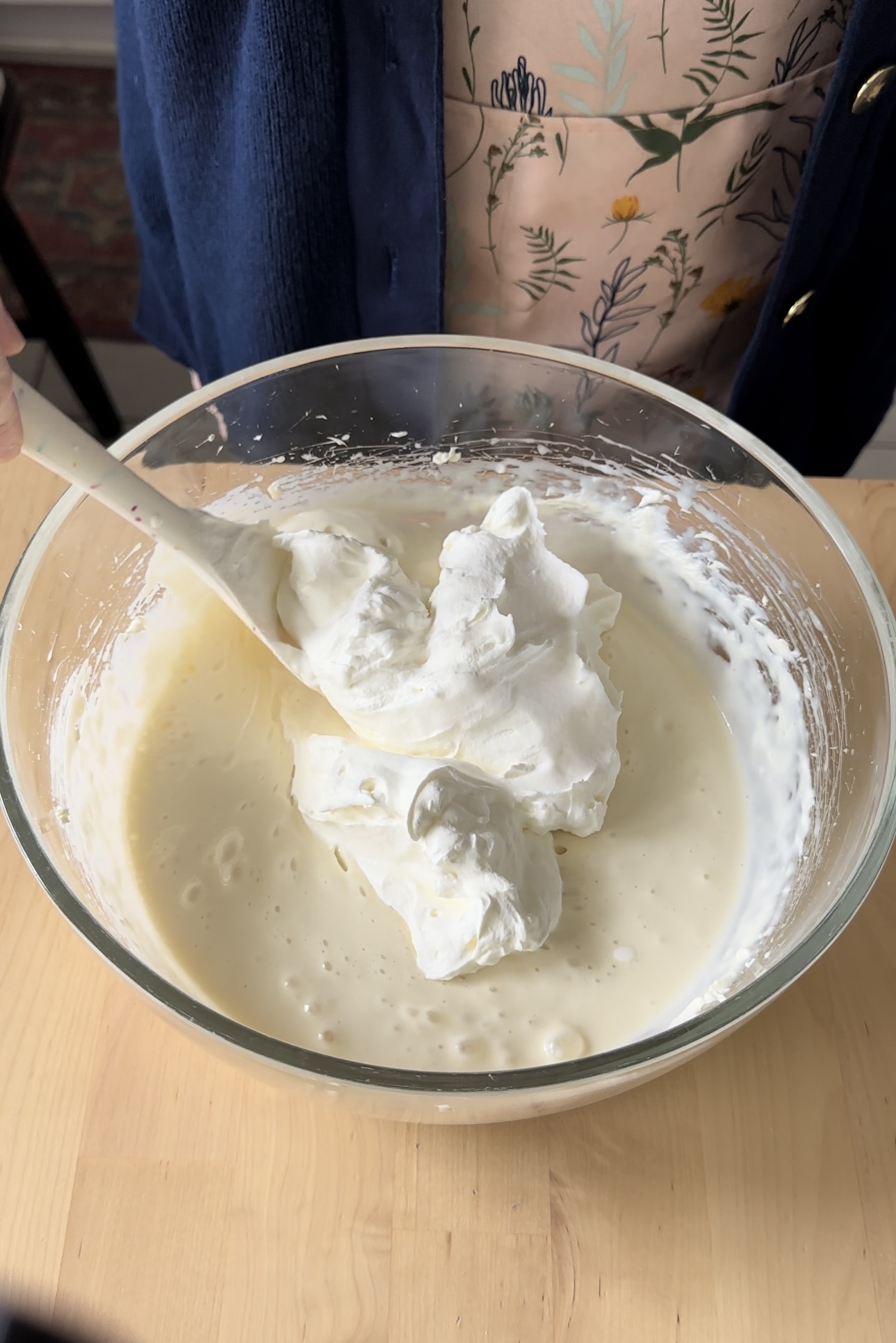 No-Churn Cream Cheese Ice Cream
This is the star of the show. This ice cream tastes like cheese cake and is so creamy and rich—and you do not even need to have an ice cream churn to make it. You whip together softened cream cheese with a can of sweetened condensed milk, then add a tablespoon of lemon juice along with a teaspoon of vanilla. Once you have that combined, you whip a pint of heavy cream until peaks form and then fold it into the cream cheese base. One of the contributing factors that helps ice cream gets its smooth texture is from the air that is incorporated into it during the churning process. Whipping the cream is the substitute for that and is the reason while many no-churn ice creams incorporate whipped cream. To make the ice cream on its on, pour into a freezer container and freeze at this point. But, for this ice cream cake, we are going to layer it with the other ingredients.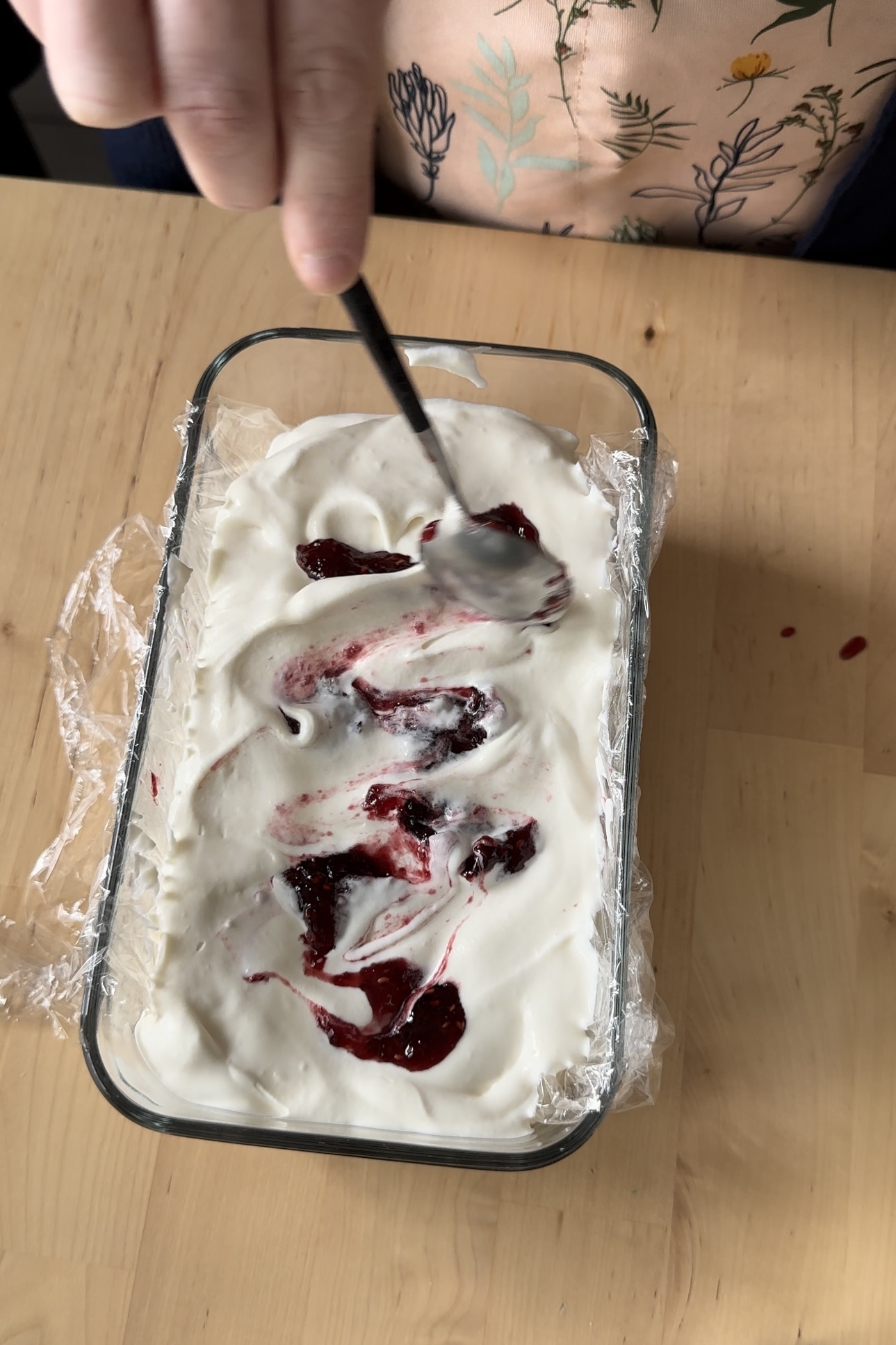 Strawberry or Raspberry Jam
Jam is wonderful to add to ice cream because its high sugar content helps it to stay soft even when frozen. You can use seeded or seedless jam here. You can make as many jam layers as you want to give the ice cream a more pronounced berry taste.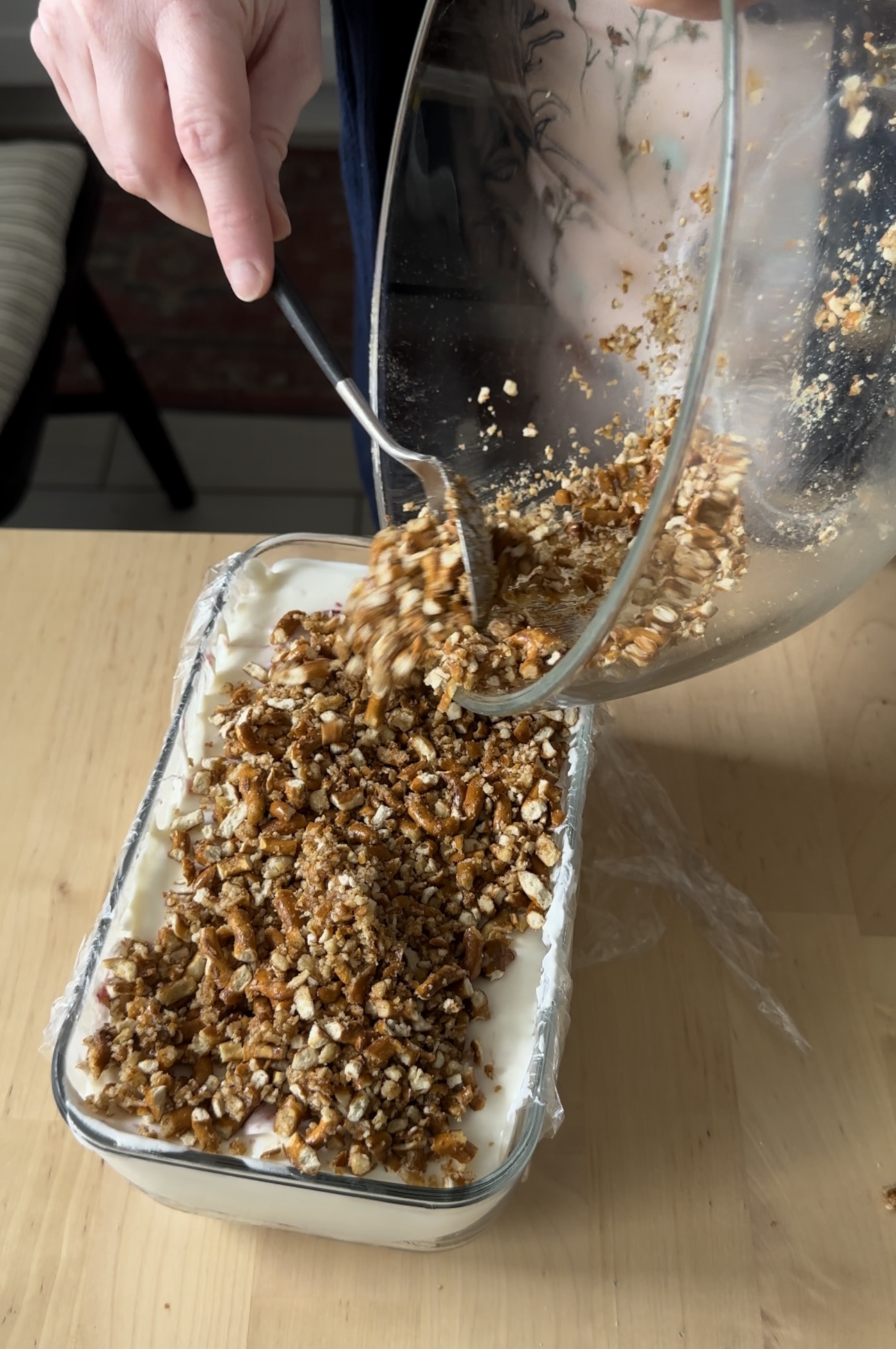 Crushed Pretzels
The final layer is the pretzel layer which gives this dessert its yummy salty-sweet flavor profile. So that it is easy to slice the ice cream cake, you want to crush the pretzels pretty finely. Then stir them together with melted butter which will help it form a crust when pressed into the ice cream.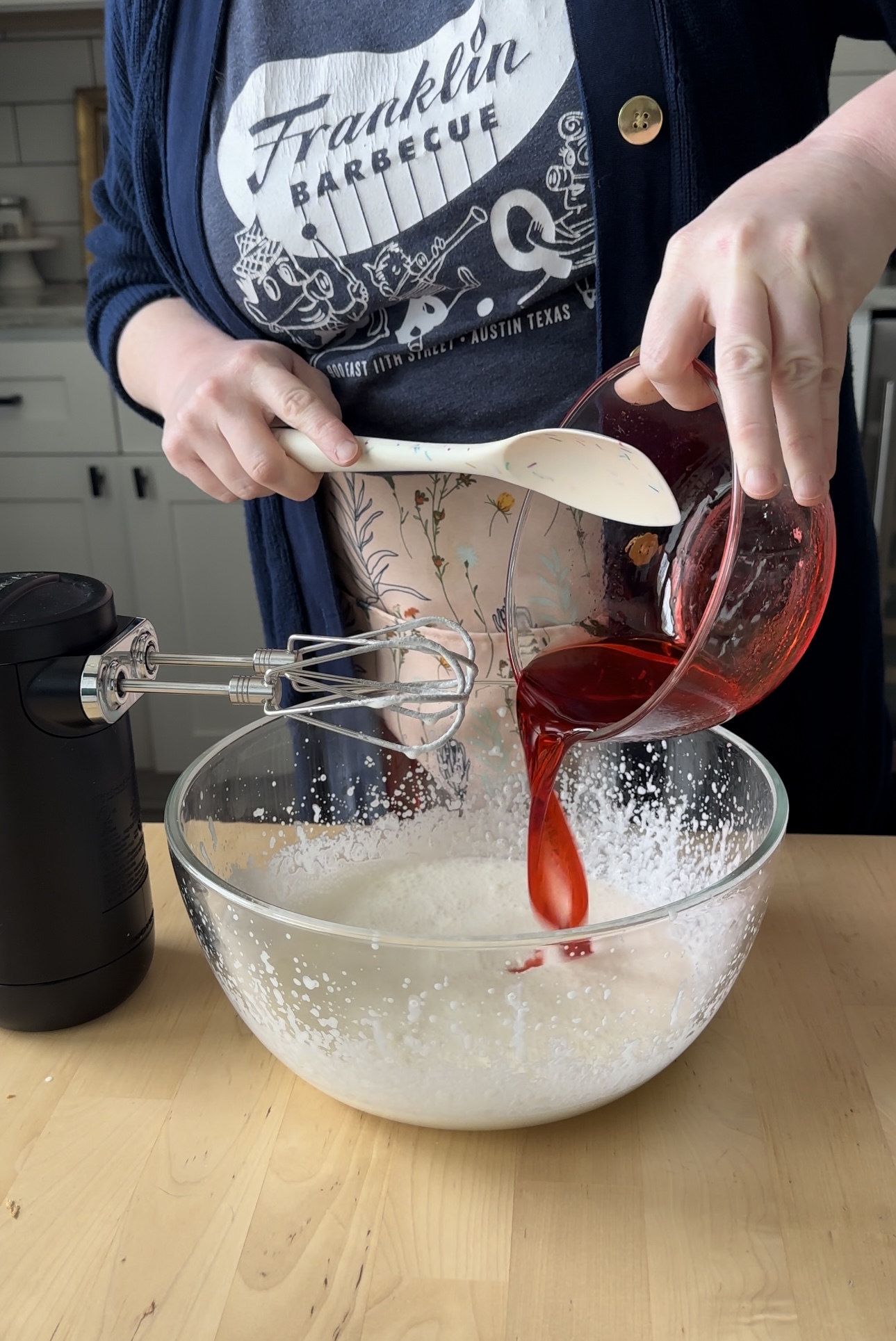 Strawberry Jello Whipped Cream
This is my favorite layer! The layer that makes Strawberry-Pretzel Salad a salad is the gelatin layer, which is strawberry jello studded with chopped strawberries. Since jello doesn't stay creamy when it is frozen, I combined a little boxed gelatin for flavor with creamy whipped cream for the topping for this ice cream cake. Adding gelatin to whipped cream stabilizes the whipped cream so that it will hold up and not turn runny over time. When you take stabilized whipped cream and freeze it, well you get a whipped cream that stays creamy and does not get icy and hard. That's what make this such a good topping for this ice cream cake.
Tips for Making Homemade Ice Cream
Homemade ice cream can be made in a variety of ways that can range from a simple stir-together ice cream that does not need an ice cream maker to ice cream made with a cooked custard base. No matter the complication level, there are several things to keep in mind to make sure the ice cream comes out smooth and delicious.
Make sure the ice cream base is well-chilled before freezing. If the ice cream base is too warm when it is placed in the ice cream maker or freezer, it will be icy. This is because warmer mixtures take longer to freeze resulting in larger ice crystals which give the ice cream an icy texture.
Make sure there is enough sugar. Sugar in the form of white sugar, honey, sweetened condensed milk, or other sweeteners, helps keep ice cream soft so it is pleasant for scooping—and most importantly—eating! Sugar actually lowers the freezing point of ice cream and as I mentioned in tip #1, the quicker the ice cream freezes, the less likely it will be icy.
A final tip for making sure your ice cream comes out creamy and delightful, is to incorporate air into it. This can be done by whipping heavy cream to add to the ice cream base or by running the ice cream through an ice cream maker. Pockets of air will help the ice cream freeze more quickly (see tip #1 and #2) and it will give it a light texture on the palate.
Strawberry-Pretzel Ice Cream Cake Recipe
8 oz. softened cream cheese
12 oz. can sweetened condensed milk
1 tsp. vanilla extract
1 pint heavy whipping cream
2/3-3/4 cup strawberry jam (more or less to taste)
1 cup pretzels
2 Tbsp. butter, melted
3 Tbsp. strawberry jello gelatin powder
1/3 cup hot water
1 cup heavy whipping cream
3 Tbsp. sugar
Make the no-churn ice cream layer. In a large bowl, beat the cream cheese with an electric mixer until light and fluffy. Add the sweetened condensed milk and vanilla. Beat until well combined. In a separate large bowl, beat the pint of whipping cream until stiff peaks form. Fold the whipped cream into the cream cheese mixture a little at a time until well combined.
Layer the ice cream. Lightly spray a loaf pan with cooking spray and light with plastic wrap or parchment paper. Spread about 1/3 of the jam in the bottle of the pan. Top with 1/3 of the ice cream base. Repeat with remaining jam and ice cream, creating swirls of jam when topping each ice cream layer. If the loaf pan is full before adding all of the ice cream, pour the remaining ice cream base into a separate container and freeze—then enjoy as a cheese cake ice cream on its own. Place the ice cream cake in the freezer while preparing the pretzel crust.
For the pretzel crust, crush the pretzels by placing them in a zip-top bag and rolling a rolling pin over them until they are well crushed. Add the melted butter and stir well to combine. Pour onto the ice cream cake, pressing into the ice cream some. Cover with plastic wrap and freeze for at least 5 hours.
Once the ice cream has frozen, make the strawberry jello layer. Add the gelatin powder to a small bowl. Heat the 1/3 cup water in the microwave for 45 seconds or until hot. Stir into the gelatin and cool at room temperature for 30 minutes. In a large bowl, add the 1 cup of whipping cream and beat with an electric mixer until thickened. Add the sugar a little at a time until combined. Pour in the cooled jello mixture and beat until well combined and stiff peaks form when the beaters are pulled from the whipped cream. Scoop into a piping bag fixed with a star tip.
To serve, unmold the ice cream cake onto a serving dish (one that is freezer safe, if you do not plan to serve it right away). Generously pipe on the jello whipped cream. Slice and serve right away. To serve later, place the topped ice cream cake back until the freezer for an hour or until the gelatin layer has frozen. Loosely cover with plastic wrap and freeze up to three days (for longer storage, place in an airtight container.) Remove from the freezer 15 minutes before slicing and serving.